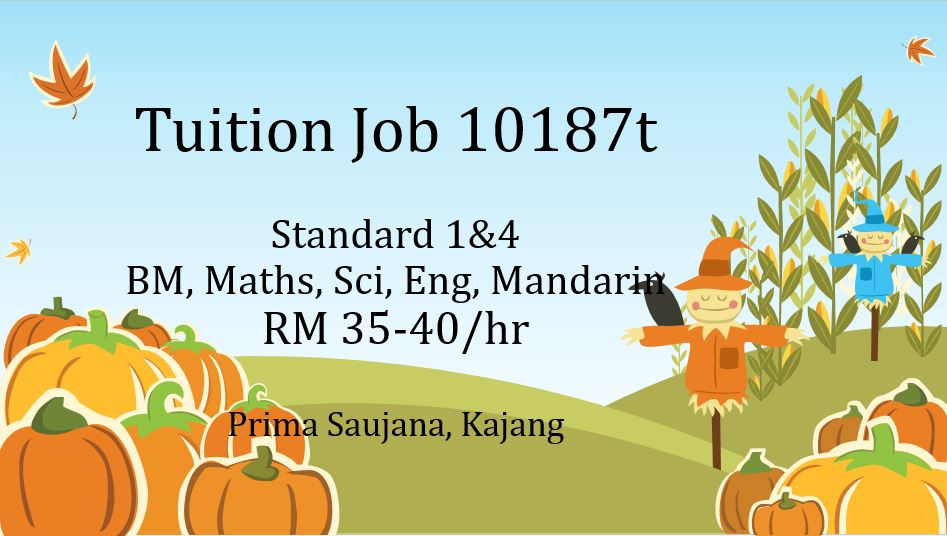 Tuition case No: 10187t [CLOSED]
Level : Standard 1 & 4 (Chinese school)
Location:  Prima Saujana, Kajang
Subjects : Std 4 (BM, Maths, Mandarin, English &  Science), Std 1 (Maths only)
Rate : RM35-40/hour*
Duration : Std 4 (1.5 hours/3 times weekly), Std 1 (1.5 hours/ once a week)
Day/Time : Std 4 (weekdays afternoon 230pm-5pm) Std 1 (Monday to Thursday after 630pm) or Sat afternoon
* Preferred Chinese Female full-time tutor/ school teacher.
* Rate nego based on experience.
How to apply:
A) Please ensure to register yourself FREE at http://perfecthometuition.com/register-as-tutor/ before applying the job for FIRST time tutor and mention the job number. We need to send your profile to parents/student.
B) If you have facebook, kindly add our facebook at https://www.facebook.com/perfectTuition , and LIKE our page at https://www.facebook.com/myperfecthometuition  (we will update jobs on facebook and in case of contact)
C) Registered tutor please whatsapp/sms Ms Tifeny 017 258 5654: 1) Your FULL NAME, tuition case NUMBER, subject. 2) Years of experience in teaching the subjects, and your available slot for tuition. 3) Eg: ("FULL NAME", "case No", "subject" , 3 years experience, Monday 5 – 6.30pm).
D) Only suitable candidate will be contacted. 50% commission first 4 weeks.
E) Or SMS/whatsapp your: 1. Full Name, IC, age, gender 2. Case Number, Subject + Level, yr of teaching exp 3. Highest qualification 3. current location + Tuition Area travelled 4. Availability 5. Current profession 6. Active email/as per facebook
Thanks